Message from the Chairman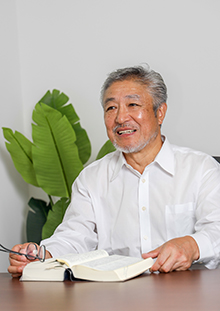 Our company celebrated its 24th year since we began providing emergency medical response services for Japanese expatriates in China from 1994.
Even the expatriates who are proficient in language also anxious about having medical support in foreign countries with different language and culture. Our company start providing services of hospital reservation arrangements and medical interpretation in case of illness or injury at 24 hours a day, 365 days a year in response to the customer's voice that "I want to have medical support in China". The Emergency Medical Response Service was started from Shanghai, in line with overseas expansion of Japanese affiliated companies, the number of our branches has been increasing year by year and currently over 550 support staffs are employed in 71 cities over 13 countries, including 38 cities in China, 11 countries in Asia and Mexico. Thanks to that, more than 11,000 companies using our services, and we provide about 80,000 emergency support annually.
While we have deployed regular full-time employees at all our sites so far and have carried out on-site services, we also received strong customer feedback that want to receive the similar service even in Europe, North America, Latin America, Oceania, Africa, Middle East and Russia as globalization of Japanese companies has progressed. In order to respond to such requests, in the areas where WellBe's unique medical support system cannot be provided at the present moment, we formed a partnership with the European and American global assistance companies in 2016 and promote the system that allows the use of our services globally.
Although our service was started from emergency medical response, as a larger and broader risk management service company, we set the following three pillars of management objectives in order to deliver further peace of mind to customers.
Construction of Emergency Response System

We promptly and accurately respond to serious cases such as brain disease, heart disease, traffic accident and so on as well as handling mild injuries and diseases every day, and support customers with appropriate systems.

Prevention Activities

We support health risk reduction by suggesting health management based on medical checkup. We will propose a system that can actualize early detection and early treatment, and will also conduct enlightening seminars. We will strengthen health screening and local follow-up activities which is the best way for reducing the risk of brain / heart disease.

Risk finance, Insurance Plan Design

We will propose an insurance plan tailored to the cost calculation and the local circumstances in case of accident. Taking the risk of traffic accident in emerging countries where Japanese corporations expanding markedly into consideration, we will not only design insurance plan suitable to the locality but also support liability claims to the perpetrators based on local laws.
With these three pillars as the foundation, in recent years we are putting more effort into the following business activities.
* Dispatch of risk management information
We publish a risk management "Newsletter" to inform customers in a timely manner the results of our company's activities, medical information of various locations and various risk management information. The newsletter provides information regularly such as analysis of emergency medical response handling related to human beings, analysis of medical costs, information on local endemic infectious diseases, introduction of related applicable laws, and so on.
* Various insurance accident correspondence
In addition to dealing with accidents involving human beings, we also handle accidents related to fire insurance and transport insurance. In China, we have established a loss adjusters company and arranged specialized staff who are familiar with insurance accidents to support Japanese companies since 2007.
In Asian countries, we are preparing various insurance accident support systems according to local circumstances.
* Optimization of overseas medical costs
Insurance premiums for overseas travel insurance are rising year by year due to soaring overseas medical costs. However, in reality, treatment quality and medical costs are not necessarily increase in direct proportion. In order to reduce medical costs, apart from educational activities and setting up insurance plans for people who are assigned to the company, it is essential to select and negotiate with medical institutions for a reasonable price on the premise of ensuring medical quality. WellBe cooperates with enterprises and medical institutions based on abundant medical correspondence data to actalize medical cost optimization.
We will thoroughly promote WellBe's own medical cost optimization by dealing with medical institution directly.
We have established WellBe Group Headquarters in Hong Kong since 2013 and have been promoting globalization straightaway, but our origin is absolutely the Japanese spirit of service. We believe that it is our mission to allow people who do business globally to live with peace of mind so that they can cope with their work with a sense of security.
We will continue to realize the services one by one according to customer's needs.

I humbly thank you for your continued support
WellBe Holdings Limited
Chairman and Founder
Masaru SHIIKAWA