WellBe Risk Management Service
Risk Management Trinity System
WellBe provides Japanese global companies support centering on the risk management of human resources through the trinity system comprising emergency response, accident prevention, and risk finance.WellBe's support services feature the provision of practical and realistic risk management services by stationing its service staff near the overseas bases of customer companies.
Three Characteristics of Risk Management Services
Emergency Response

If the Japanese expatriates and their families, business travelers, local employees, etc. suffer from medical accidents or any type of accident that occurs in the factory and business office, we will appoint staff to the site for emergency response.

Prevention Activities

We provide daily health management proposals, basically including medical checkup, effectively prevent serious medical cases and lifestyle related diseases. Also, we provide local inherent risk management information, and carry out all kinds of prevention.

Risk Finance

We help you manage risk finance to cover the costs associated with accidents and the costs required to cover the difference between compensation and benefits through measures centering on the proposal of compensation and insurance programs.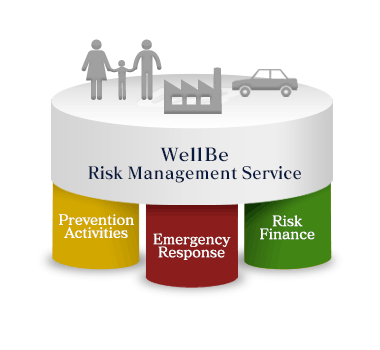 Overseas Risks and WellBe's Overseas Risk Management
With the development of business process of globalization, the market scale of Japanese enterprises entering overseas market expands year by year. In recent years, as the domestic market scale of Japan shrinks, the price competition is intense, the overseas development networks of Japanese enterprises gradually transfer from Europe and the United States to Asia where there are huge markets.
However, those enterprises developing overseas also face new risks that are rarely experienced in Japan, such as terrorism, riot, labor dispute, overseas unique infectious disease, etc.
Therefore, it is necessary to establish preventive and corresponding measures for the injuries, diseases or accident that may be suffered by the staffs who work overseas.
WellBe provide the integrated management proposals such as "Emergency Response", "Prevention Activities" and "Risk Finance", etc. through grasping the above-mentioned real and high-frequent risk conditions.
Three mainstays that support WellBe's risk management services
Emergency Response

Take a quick emergency responce once any accident occurs, so that all customers can feel at ease.

24/7/365 services provided in Japanese
Support staff stationed in Asia and Mexico
Medical support services in case of emergency

More details

Prevention Activities

Prevent illness and accidents via precautionary measures and ensure the safety of our customers.

Implementation of overseas medical checkup and follow-ups
Provision of risk information by region and by category
Implementation of risk management workshops

More details

Risk Finance

In order to secure the costs associated with accidents, we offer proposals, plans and management on compensation and insurance program that best suit our clients.

Analysis of existing costs and proposal of cost-reduction measures
Design and implementation of risk finance (compensation/insurance) programs
Cost reduction via our original accident response system

More details
The WellBe Group will support you particularly in medical settings where you feel most insecure.
Sudden illness and injuries, language barrier and no knowledge of local medical conditions

WellBe will introduce medical network available then and there.

Ever increasing compensation costs related to medical care
Aren't there any alternatives to insurance?

WellBe will optimize your risk finance by carrying out a detailed analysis of your existing programs.

If you are involved in a traffic accident abroad, can you entitled to compensation for loss?

WellBe will promptly send an accident handling expert to support your negotiations with the other party.

The number of Japanese employees assigned abroad keeps increasing each year.
How can their safety be ensured?

To ensure the prevention of serious medical cases, WellBe will see to it that your employees will have regular medical checkup and personal physicians within each local community.
WellBe's Customer Support System